Hello, I hope you had a good weekend. I was watching Good Morning America today when I saw Kristin Davis talking to Robin Roberts about this movie. I'm always happy to see a movie that raises awareness about Mental Illness, because just as Kristin Davis said to Robin Roberts today, "As a Society, we still don't talk about these issues, there is still a Stigma that surrounds Mental Illness", which of course, I could not agree with more. This movie will address what my family and I had to cope with, for about 30 years with my Mother, and what many other families still have to cope with today. I will be forever grateful though, that in the last 20 yrs of my mother's life, new treatment brought about a whole new, and happy life for her and my family. I encourage you to watch this if you know someone who is living with a family member that is ill. I am sure it will leave you feeling a little more compassionate.
Thanks for visiting,
Janet :)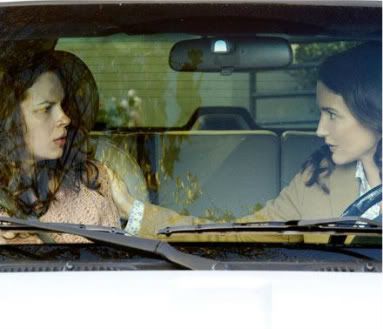 Lifetime is set to premiere the original movie "Of Two Minds," starring and executive produced by Emmy-nominated actress Kristin Davis ("Sex and the City," "Couples Retreat") and co-starring Emmy winner Tammy Blanchard ("Moneyball," LMN's "Amish Grace") and Oscar winner Louise Fletcher ("One Flew Over the Cuckoo's Nest"). From a screenplay by Oscar-nominated writer Richard Friedenberg ("A River Runs Through It," "Promise"), the Sony Pictures Television–distributed film takes viewers on an emotional journey as they are given an intimate look at a family's struggle to cope with a loved one suffering from schizophrenia and the challenges that threaten to tear them apart. "Of Two Minds" will debut on Lifetime Saturday, March 10, at 8 pm et/pt.
"Of Two Minds" follows the story of the challenging relationship between Billie (Davis) and her younger schizophrenic sister, Elizabeth, known as "Baby" (Blanchard). After their mother dies, Billie takes responsibility by moving Baby in with her family, including her husband, their teenage son and young daughter. At first, Baby and the family work to adjust to their new living arrangement. However, after a disturbing incident involving her son and Baby, it becomes clear to Billie that she and her family are not equipped to handle Baby's illness, ultimately forcing her to make the difficult decision to do what's best for her sister and her family.